It's time pharmacists soul-search about what 'safe' means.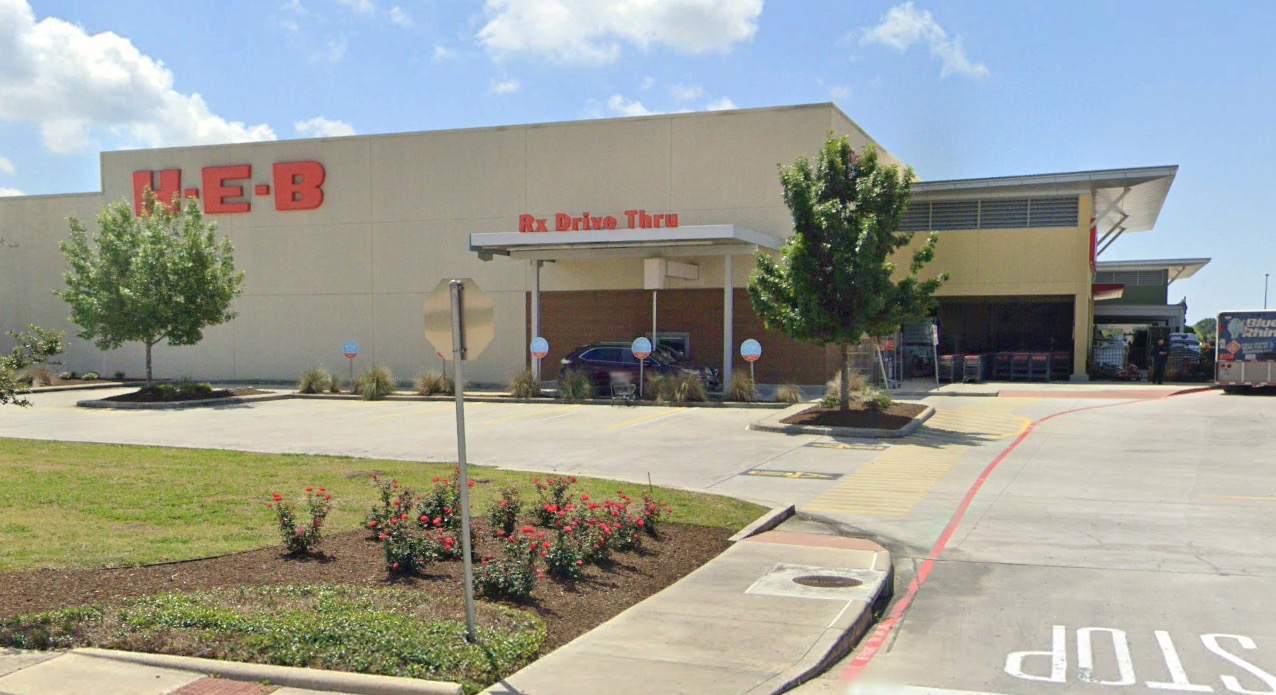 Drive around San Francisco, Philadelphia, and New York, and one thing is clear – there are waves of addicted and overdosing opioid victims living in squalor and destroying our communities. There's one thing they have in common in every city: None of these people are dying from Ivermectin.
Someone should get that message "Nikki" in Baytown, TX.
Big chain pharmacies have been blocking prescriptions nationwide
Nikki is a pharmacist at the Baytown, TX grocery store H-E-B. H-E-B has 380 stores across the US state of Texas and northeast Mexico. The company also operates 'Central Market'. On September 16, 2023 'Nikki' refused to fill an ivermectin prescription for Dr. Mary Talley Bowden in Houston, TX. This process has been playing out nationwide for the past three years, with pharmacies refusing to fill medical prescriptions like hydroxychloroquine and ivermectin repeatedly with no consequence. Until now.
For those of you who don't remember, Dr. Bowden was a target of Shots Heard, the online harassment group operated by Public Good Projects, a non-profit operated by liberal democrats and funded in part by BIO – a pharmaceutical lobbyist company. Dr. Bowden was attacked via medical license board complaints as well as being removed from twitter, all for prescribing ivermectin, a safe and affordable 'miracle drug' that Merck gives away to African countries.
Ivermectin could have threatened the continued use of EUA's
Ivermectin is also a medication whose uses could have threatened the Emergency Use Authorization for the outrageously overpriced and by some accounts deadly remdesivir, paxlovid, and all the vaccines and tests that were green-lit under the "EUA". According to the wording of the FDA's rules on EUAs:
Dr. Bowden recently sued the FDA, lost her first trial and then won her appeal. The result is that Dr. Bowden has been vindicated and can continue her lawsuit against the FDA's misrepresentation of Ivermectin, an action which caused pharmacists like Nikki to feel emboldened to reject prescriptions across the country. A significant number of prescriptions are used off-label, a standard practice upheld by the fifth circuit court in Dr. Bowdenw's appeal.
The FDA is accused of poisoning public sentiment about ivermectin in an August 21, 2021 tweet where it called the human medication 'Horse Paste'.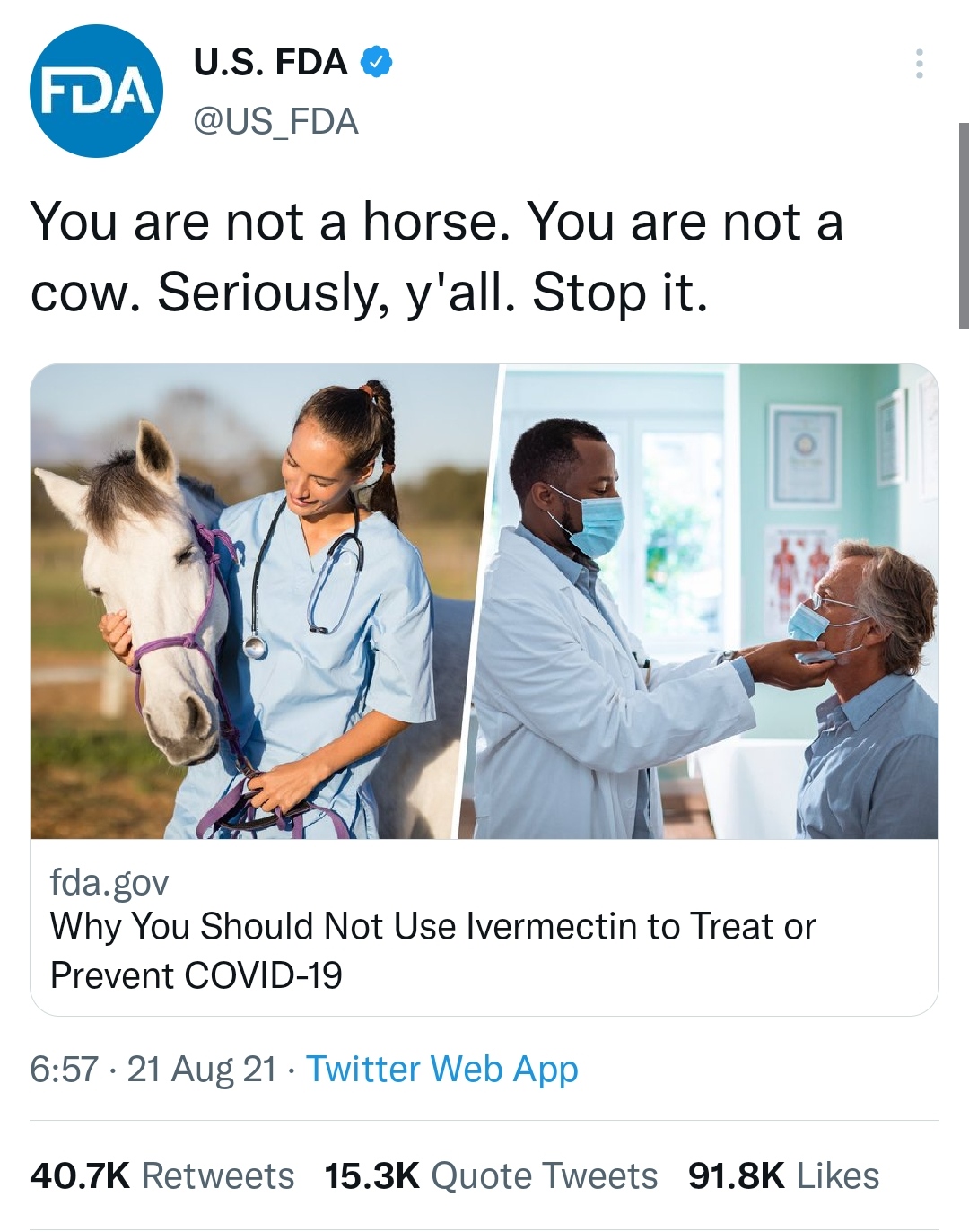 You'd think Nikki would be up to date on Dr. Bowden's wins of late, but she wasn't. This is how we learn.
Unfortunately for H-E-B and the young Baytown, TX pharmacist, Dr. Bowden recorded her exchange with Nikki. In this recorded call, Nikki:
disrespected Dr. Bowden's credentials
misrepresented the risk/benefits of Ivermectin
incorrectly accused Dr. Bowden of only seeing the patient by phone (which is legal)
was ignorant of the LD50 safety profile of Ivermectin
hung up on Dr. Bowden
Here's the video of Dr. Bowden's call with "Nikki"
Pharmacist Nikki: We're not comfortable with the risk vs benefit based on the toxicity from the ivermectin when it's being used for COVID treatment.
Dr. Mary Tally Bowden: Oh, ok. So tell me about that.
Pharmacist Nikki: Ms. Bowden?
Dr. Mary Tally Bowden: It's Doctor Bowden.
Pharmacist Nikki: Doctor, Ms., I'm not gonna fill this prescription, no matter what you tell me right now. That's my judgment that I'm using. I have the right to do that. Whatever you want to do with that, feel free.
Dr. Mary Tally Bowden: Can you just tell me what, um, what's the plan if he gets COVID and he goes downhill. Can I send him to you? Will you take care of him?
Pharmacist Nikki: Sure. Go for it.
Dr. Mary Tally Bowden: So you're gonna take care of him?
Pharmacist Nikki: Are you gonna take care of him? Are you seeing him in-house or are you sending prescriptions based off of telephone?
Dr. Mary Tally Bowden: Um, excuse me I saw that person in person, and telemedicine is allowed by the way.
Pharmacist Nikki: HEB (ACD?) does not usually fill this medication. It's up to the pharmacist's discretion based on the dosing that you're doing but we are not comfortable filling it.
Dr. Mary Tally Bowden: Do you know what the LD-50 is?
Pharmacist Nikki: Yes I do.
Dr. Mary Tally Bowden: Ok, what's the LD50 of ivermectin?
Pharmacist Nikki: Oh my goodness.
Dr. Mary Tally Bowden: What is it?
Pharmacist Nikki: Doctor…
Dr. Mary Tally Bowden: It's 25 milligrams per kilogram. Do you know what the dosage is I prescribed? It's .4 milligrams per kilogram. Did you learn that in pharmacy school?
Pharmacist Nikki: (hangs up).
Media Request Email for H-E-B Pharmacy
We heard about some other disturbing issues regarding the pharmacy and contacted H-E-B about their policy on basic prescriptions like ivermectin. Email below.
Hi,
I'm a journalist looking for an official policy statement from HEB.
We've received reports with evidence that HEB Pharmacists have been blocking prescriptions for drugs prescribed by doctors. When doctors attempt to discuss the issue with your pharmacists (in particular "Nikki" from Baytown TX H-E-B Pharmacy), your pharmacist hung up on the medical doctor in question.
You can view and hear a recording of the interaction with Dr. Mary Talley Bowden and 'Nikki' here.
We also received whistleblower information from a pharmacist inside HEB stating this:
The FDA has recently been reprimanded by the Fifth Court of Appeals for its deceptive references online regarding Ivermectin. Access restrictions to 4-aminoquinolines like Hydroxychloroquine and cinchona alkaloids have repeatedly been employed in biological warfare affecting civilian populations since as far back as the United States Civil War.
The Nuremberg Code requires informed consent stating that the voluntary consent of the human subject is absolutely essential.
Is HEB corporate behind these policies or are your pharmacists uneducated and simply going rogue?
We will be publishing an article on this today.
Thank you
BrokenTruth.com
We did not receive a response from H-E-B by press time.
What is LD50?
LD50 is the median lethal dose that would kill any one person in about half of a population. Basically, it's the toxic dose of a drug. Dr. Bowden is prescribing .4 mg per kg of body weight for her patient. That would be approximately 1/60th the LD50 for ivermectin. In other words – it's a ridiculously safe level and there would be no risk.
The word 'safety' is used a little too loosely in medicine these days. According to this website you can get some great discounts on highly addictive fentanyl at H-E-B pharmacy.
H-E-B will sell you fentanyl for a toothache, but not hcq or ivm with hardly any side effects. Make it make sense!!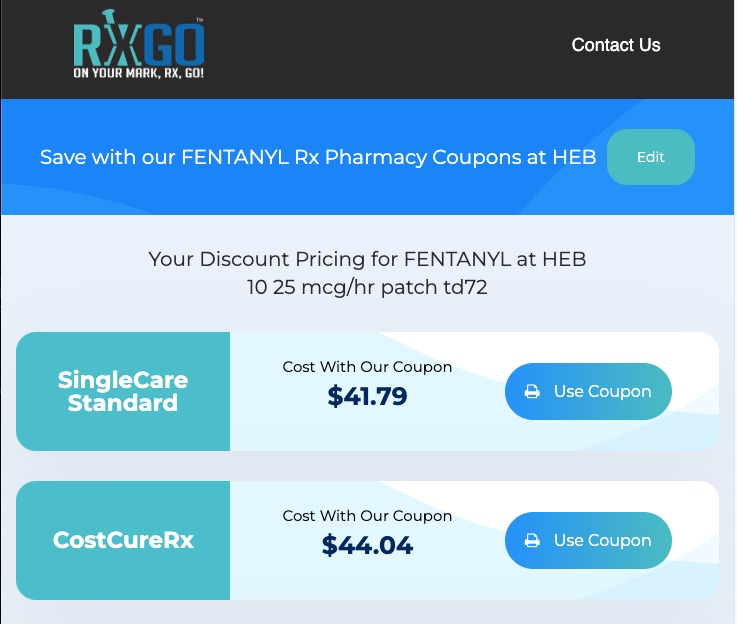 The Texas AG is investigating pharma companies
Over the weekend Texas AG Ken Paxton was cleared of any impeachment charges over the weekend. In May, Paxton initiated investigations into pharma companies for deceptive practices as well as gain-of-function charges for developing COVID in a lab. 3 weeks later he was brought up on impeachment charges by a piss-drunk Texas speaker of the house Dade Phelan. Now that he's cleared, expect investigations into these pharma companies to begin again in earnest.
One can't help but wonder if the Texas Attorney General will be investigating pharmacies, too.
If you have encountered pharmacies that have refused basic prescriptions like Hydroxychloroquine or Ivermectin, report them to us to be added to our "Broken Pharmacies" Map of Pharmacies that refused medications in America in one of our darkest hours.
Please help us fight
Our news media is corrupt and hijacked. You can support our efforts at independent journalism – and get your name in the credits of our upcoming documentary by donating here. Thank you!!!