Doctors win appeal against the FDA over its misrepresentation of Ivermectin in tweets used to slander a safe and beneficial medication.
Fridays are notoriously bad days to release news, unless you want to obfuscate information. This process, known as a 'Friday News Dump' is even more pronounced going into a 3 day weekend. That's exactly what happened last Friday, September 1st when the Fifth Circuit issue a verdict in a case against the US FDA – a case that could have significant consequences for the FDA.
Three doctors, Robert L. Apter, Mary Talley Bowden, and Paul E. Marik won an appeal for a lawsuit that they initially lost against the US FDA over tweets that implied that ivermectin was unsafe and only for use in horses. This statement was a misrepresentation of fact but picked up by ignorant and politically motivated pharmacists and doctors across the world. These medical 'professionals' used the tweet to refuse to prescribe or fill prescriptions and denied a potential life saving medication to patents with few options. Winning the appeal means that a retrial must be held.
How the FDA's Actions Caused Harm
Ivermectin is a safe and effective "medication" with anti-viral properties. It has been called a "Wonder Drug". It is given away in African nations for human usage by Merck. It is also used for animals as well. Ivermectin use for COVID has been repeatedly slandered by doctors with undisclosed conflicts of interest because it's use would threaten to cut off billions of taxpayer dollars for new drugs, treatments, therapies, vaccines and research for incredibly left leaning universities. For example, this article by Dr. Ryan Marino for NBC references the FDA's misguided tweet and uses it to shame doctors advocating for patients across the nation.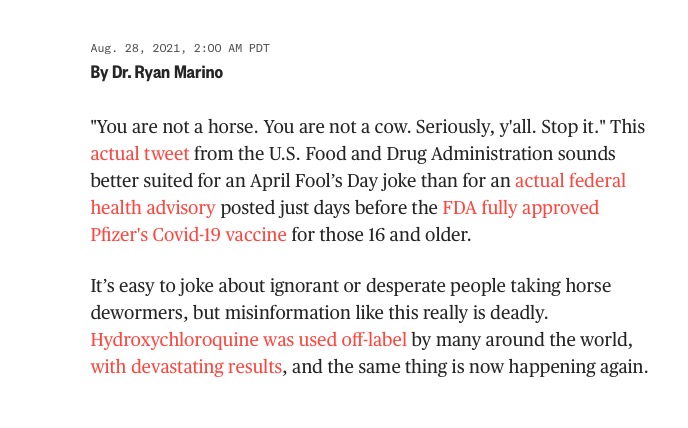 In the byline, Marino failed to disclose that his hospital, University Hospital's Cleveland Medical Center conducted clinical trials for Pfizer covid vaccine, a vaccine that only exists thanks to an Emergency Use Authorization. According to the rules of the EUA, if there is any medication that can be used to treat a disease, no EUA can be granted. This requirement of no available treatment before EUA is granted is the possible motivation that so many health institutions have had to discredit affordable and readily available drugs like Ivermectin and Hydroxychloroquine.

When Marino was confronted over his conflicts, he deflected and attempted to diminish his bias and then attacked the education of the person who pointed out his conflict of interest. Doctors with conflicts have employed a mock and block tactic repeatedly when confronted online. David Boulware, a researcher who discredited HCQ early into 2020 famously blocked Steve Kirsch, one of his study's sponsored.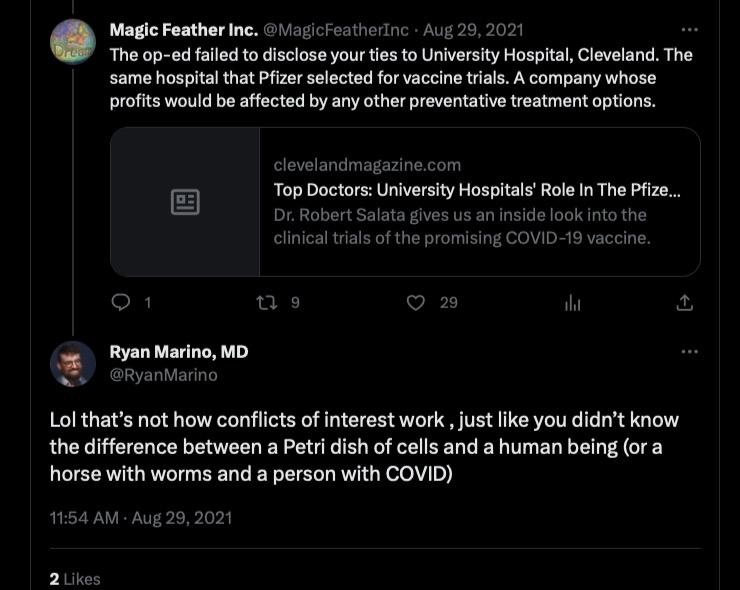 NBC received untold millions from the HHS to promote medical propaganda regarding the covid vaccines as part of its 'Community Corps' campaign across all media outlets. NBC also has received an undisclosed massive amount of funding from pharmaceutical companies to promote therapies like Remdesivir, paxlovid, and the Covid 19 vaccines, all of which have significant hidden risks. In terms of its politicization, David Cohen, the Comcast Universal VP turned Biden Ambassador to Canada, used his home to announce the Biden 2020 campaign. If that isn't enough, Linda Yaccarino, the new head of Twitter/X, was formerly the chairman of global advertising and partnerships for NBCUniversal.
Full disclosure – this article is written by a director whose marketing work for NBCUniversal was called 'Best in Class' by executives at NBC – possibly by Yaccarino herself.
Doctors called CPS on mom asking about Ivermectin for sick child
In another situation, concerned mother Jennifer Jones of Richmond Virginia asked about ivermectin and hydroxychloroquine for her daughter Ryleigh. Ryleigh developed severe adverse reactions after receiving her covid 19 vaccine, resulting in paralysis and feral outbursts, as well as untreated pneumonia. One of Ryleigh's doctors, Grace Mueller, considered ivermectin and hydroxychloroquine to be unsafe and tweeted about her interactions with Jennifer Jones. Virginia Commonwealth University hospital also called CPS on Jennifer Jones over the request.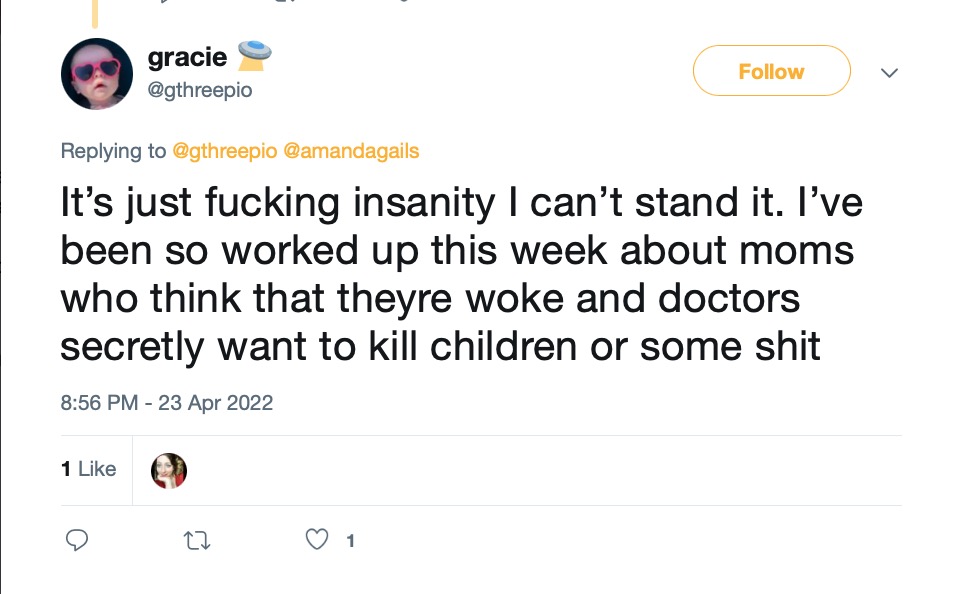 In this tweet, Grace's political bias, which some call "Trump Derangement Syndrome", seems to override her ability to think rationally. How many doctors discredited HCQ and IVM solely because conservative doctors recommended it?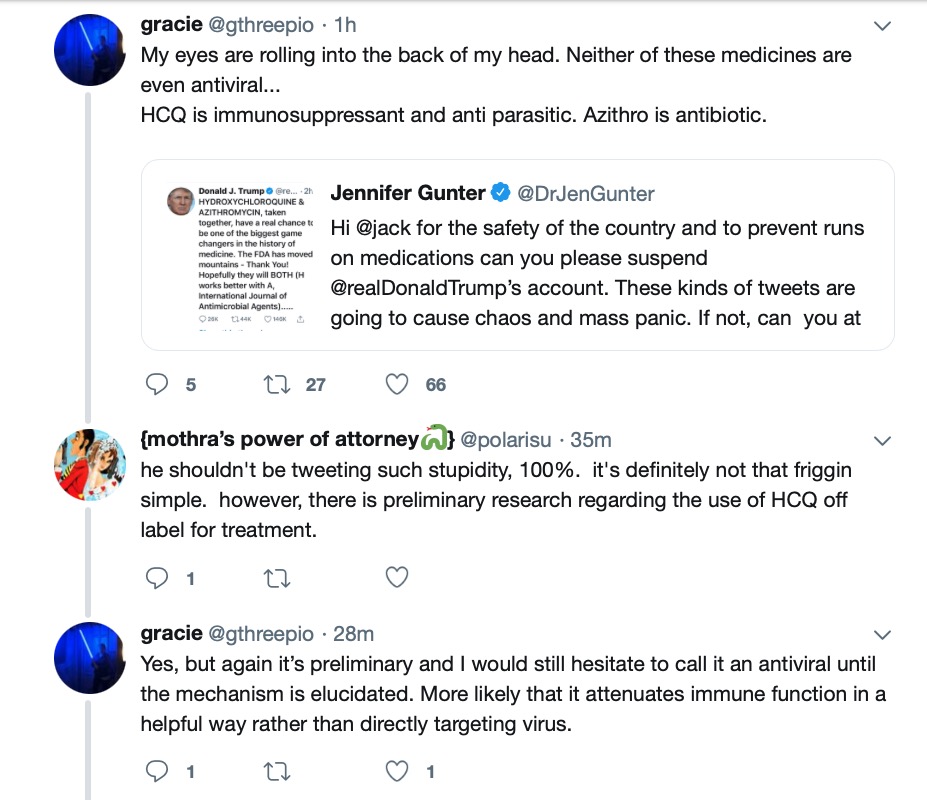 Ryleighs story, which you can see in our interview here, resulted in Ryleigh being admitted to a children's psychiatric ward for 3 weeks. At the end of her 'treatment', she asked her parents about their 'pronouns' and if they were 'homophobic', terms her parents never used in front of the 8 year old. She has since recovered, no thanks to Grace Mueller or VCU.
Willingness to Prescribe Ivermectin and HCQ Resulted in Targeting
When doctors like Mary Talley Bowden shared the results of their treatment with HCQ and Ivermectin, rather than reevaluating the treatments, 'woke' medicine targeted them for attack. In our 'Targeted Intellectuals' series of interviews, we interviewed Dr. Bowden as well as the American Frontline Nurses led by Nicole Sirotek. The series also included Scott Miller, a physicians assistant who was mercilessly targeted by groups founded by Pharma and democrat linked entities like "Team Halo" and Shots Heard Round the World". You can view our series of interviews here.
Pharmacists Refused to Fill Prescriptions
The FDA's tweet had tremendous consequences on the ability of doctors to have prescriptions filled. Woke pharmacists across the country flatly refused to fill prescriptions, citing the negative news about Mary Talley Bowden and claiming the drugs were somehow dangerous. The same pharmacists routinely filled prescriptions for adderall, oxycontin and fentanyl without blinking an eye. Drugs that have devastated the landscape of the United States. These pharmacists routinely brag about their refusal, somehow equating their ignorance to these medications as 'life saving'.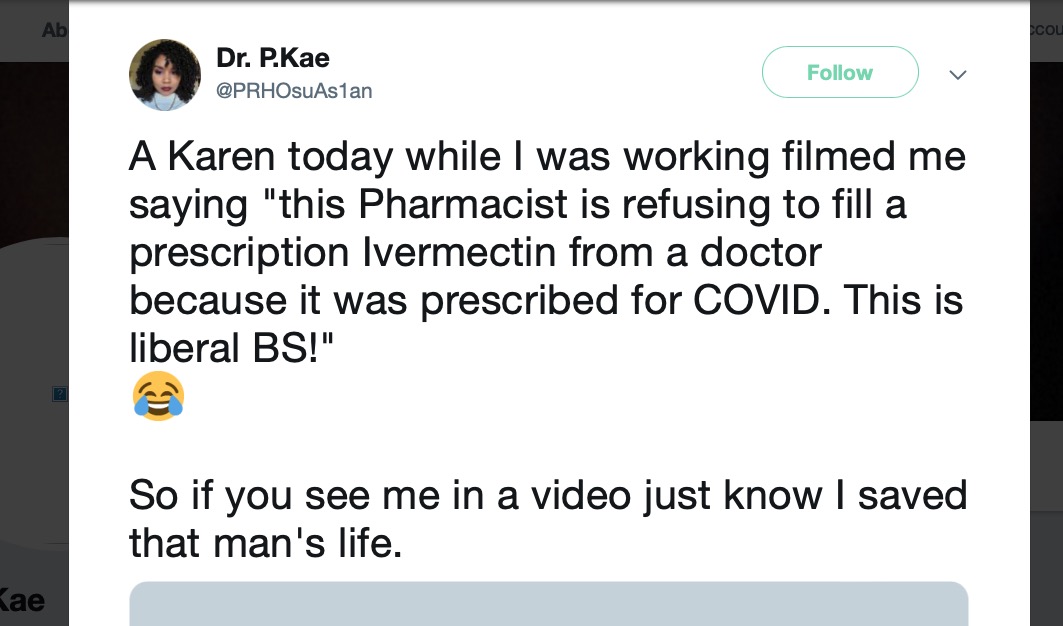 Doctors and patients without recourse can now report pharmacies and pharmacists who refuse to prescribe these drugs for inclusion in the Broken Truth Database of Compromised Pharmacies.
If you want to email a list of pharmacies that rejected prescriptions or have confirmed they will not fill prescriptions, send an email to REPORT@SENT.COM

Or use our online form here.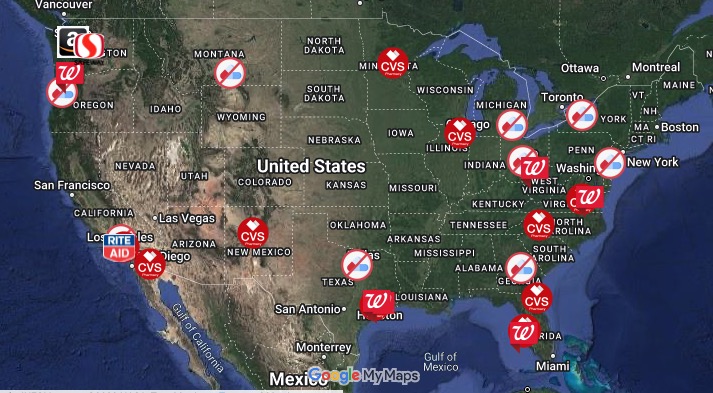 The Fifth Circuit's Reversal of Bowden's Verdict
The reversal of the lawsuit against the FDA means the FDA is not immune to liability for their devastating 'quips'. The Appeal, which can be read in full below, states:
FDA is not a physician. It has authority to inform, announce, and apprise but not to endorse, denounce, or advise. The Doctors have plausibly alleged that FDA telling about and telling to. As such, the Doctors can use the APA to assert their ultra vires claims against the Agencies and the Officials.

Even tweet-sized doses of personalized medical advice are beyond FDA statutory authority. We REVERSE of dismissal, and we REMAND for further proceedings.

Case: 22-40802 Document: 00516882138 Page: 1 Date Filed: 09/01/2023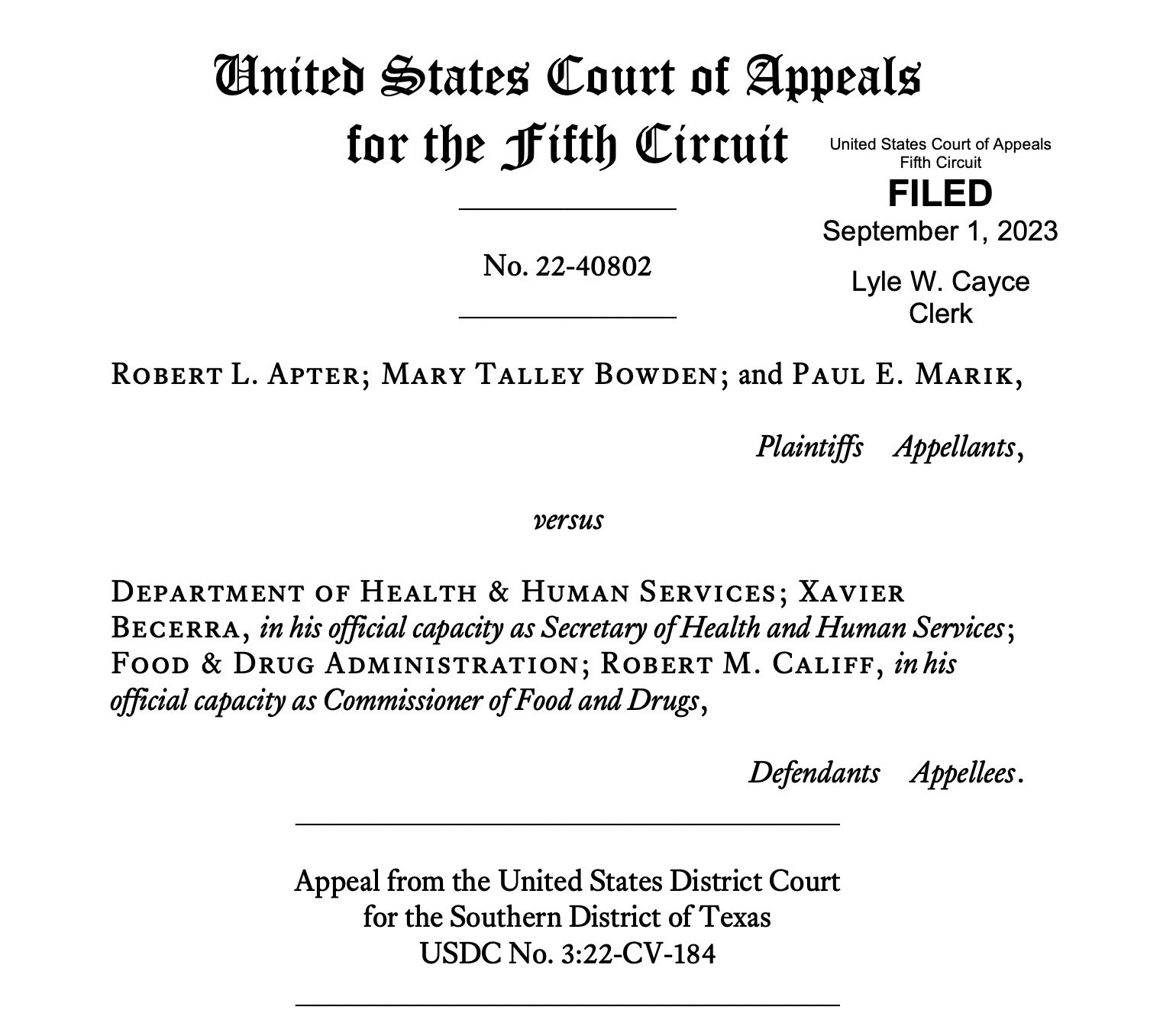 It has been long known that the FDA is a compromised agency. Repeatedly heads of the agency leave to work in lucrative Pharma related roles with Scott Gottlieb on the board of Pfizer and Steve Hahn leaving the FDA for Flagship Pioneering, the venture firm behind Moderna.
We look forward to seeing how the next judge tries to deworm out of a verdict against the USFDA and it's Pharma Friends.
You can view highlights as well as the original audio of the appeal trial in our reporting of the lawsuit below.