If you think places like Iowa or Colorodo are safe from the communist wolves in woke clothing, you're dead wrong. They're everywhere.
It used to be that we could have healthy debates regardless of political differences but with certain fundamental truths all parties could find common ground on. Namely, that communism, fascism, and all variants of globalism were not good and that families and children were to be protected. Those days are gone.
We've compiled a new data set for you to chew on. This data set includes members of US government that are part of World Economic Forum, democratic socialists of America, and politicians who deny human rights.
Broken Truth Map of Socialists in US Government
This map has all kinds of goodies, including Burbank, CA Mayor Konstantine Anthony. Konstantine was recently featured by Libs of TikTok for being spanked by a drag queen on camera at an event that was open to minors over 15 in Santa Clarita Valley, CA.
Leadership is Hard.
Repeatedly we uncovered that some of the Democrat Socialists elected to office were very much uninterested in actually holding office and had also been involved in violent BLM riots around the country. For example, Aurora, CO city council member Allison Coombs colliding with officers in a protest that involved bottles, rocks, and sticks were thrown at the officers.
Or how about Indira Shoemaker, Des Moines, IA city councilperson. Indira was was elected to city council in 2021 on a platform of defunding the police…in Iowa? That doesn't seem right, but remember, we can't question elections, ya'll. And definitely don't question why the FEC isn't investigating outlandish money laundering via democrat fundraising system ActBlue.
At any rate, Indira finds the burden of public service too difficult. As of August 3rd she had missed approximately 20% of the council meetings. It's not her first scandal. Indira was brought up on felony charges in 2020 for assaulting officers at a protest at the state capitol. In 2022 Indira was also sued by police officers for the assault during violent BLM protests.

Luckily for Iowa, Indira resigned from city council 5 days ago.
Politicians who deny human rights are included
We also had to include politicians like Cecilia Aguiar-Curry, co-sponsor of the pure evil AB2098, also known as the law designed to silence medical doctors and strip away their first amendment rights.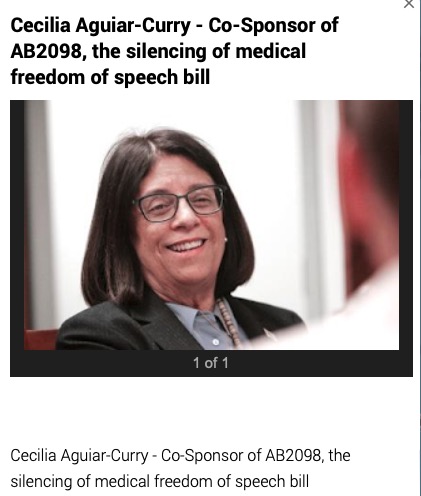 Enjoy the map and please pay attention to your local politicians. The people behind this gender confusion campaign are doing it because destroying core elements of our society like gender and family are components of lawfare. Destroying families is also a primary focus of marxism.
Wake up. Whether you like it or not, we are at war.