NIHgate just got worse. The Dept. of Health and Human Services today reiterated that trade secrets are more important than US lives in a new FOIA appeal rejection.
Does the NIH have a process in place to 'take down' studies, papers, or people that go against the NIH's interests? Is a member of the NIH who works on a US Army Base colluding with researchers from the Wuhan Institute of Virology? Apparently, yes – and they have the full support of Biden's HHS to do this.
To recap, this is another in a series of articles we call #NIHgate that shows the great effort to cover-up ongoing suppression of information in the Federal government regarding the harm caused by the rushed covid 19 vaccines. In the NIHgate series, we focus on Eric O. Freed, a scientist at the National Cancer Institute in Fort Detrick Maryland with ties to Wuhan, China. Eric is also the editor of the Swiss based "MDPI Viruses". MDPI Viruses released a study showing links between the COVID-19 vaccine spike proteins and P53-manipulated gene cancers. Eric conspired with an EU government consultant named Oliver Shildgen to remove the paper. At the same time, the authors of the paper were harassed and ultimately one was fired in order to force a retraction. The retraction was based on a technicality that didn't change the outcome of the findings of the study. Read all about it here.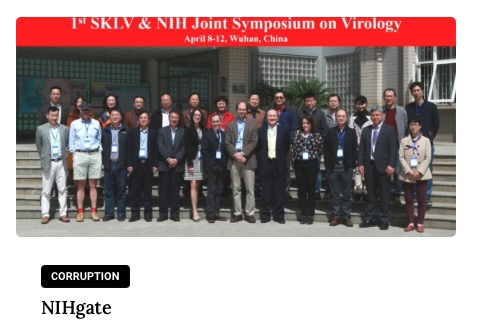 In August of 2022, we submitted a request to the HHS/NIH for all records of communication between Eric Freed, an NIH/National Cancer Institute employee, and Oliver Shildgen regarding this particular paper. The NIH took 8 months to respond indicating they had discovered 490 pages of communications and then the NIH did something amazing. The NIH refused to release a single page of the communications citing that 'trade secrets' would be revealed.
We filed an appeal
On May 31, 2023 we submitted an appeal to the NIH's heavy handed blanket redaction.
There is an important public health benefit to releasing these unredacted communications. These records document the decision making process behind how science regulates itself. Specifically, the methodology used to establish a claim by Eric O. Freed of the NCI that a paper written by two researchers in Sweden was invalid. Many esteemed researchers have reviewed Eric's arguments used to force this retraction at MDPI Viruses and are astonished by the weakness of Mr. Freed's Expression of Concern. Further, the authors of the paper faced severe retaliation, with one even losing a permanent position despite having caved to the pressure to retract. Additionally, another study was recently published in conjunction with scientists from NAIAD that validates the findings of the researchers in Sweden.

The public health importance of the information contained in Eric Freed's communications with a foreign agent (Oliver Schildgen) cannot be understated. This study revealed a link between various cancers and the COVID vaccine spike protein, with a heightened focus on female cancers like breast and ovarian cancer. If this cancer / vaccine link is valid, then delaying, obfuscating, or obscuring the release and review of this data is potentially a threat to national security.

Mr. Gorka-Malene and the NIH/NCI have failed to give sufficient weight to the public's interest in disclosure. MDPI is a non-profit business entity in Switzerland which operates a collection of scientific journals. The damage from exposed 'review process' trade secrets will be non-existent unless the communications reveal evidence of malfeasance.

NIH FOI Case No. 58915 Appeal, May 31, 2023
Hundreds of you signed a petition demanding answers
Over 400 people signed our petition demanding the release of Eric O. Freed's NIH Emails regarding this study retraction.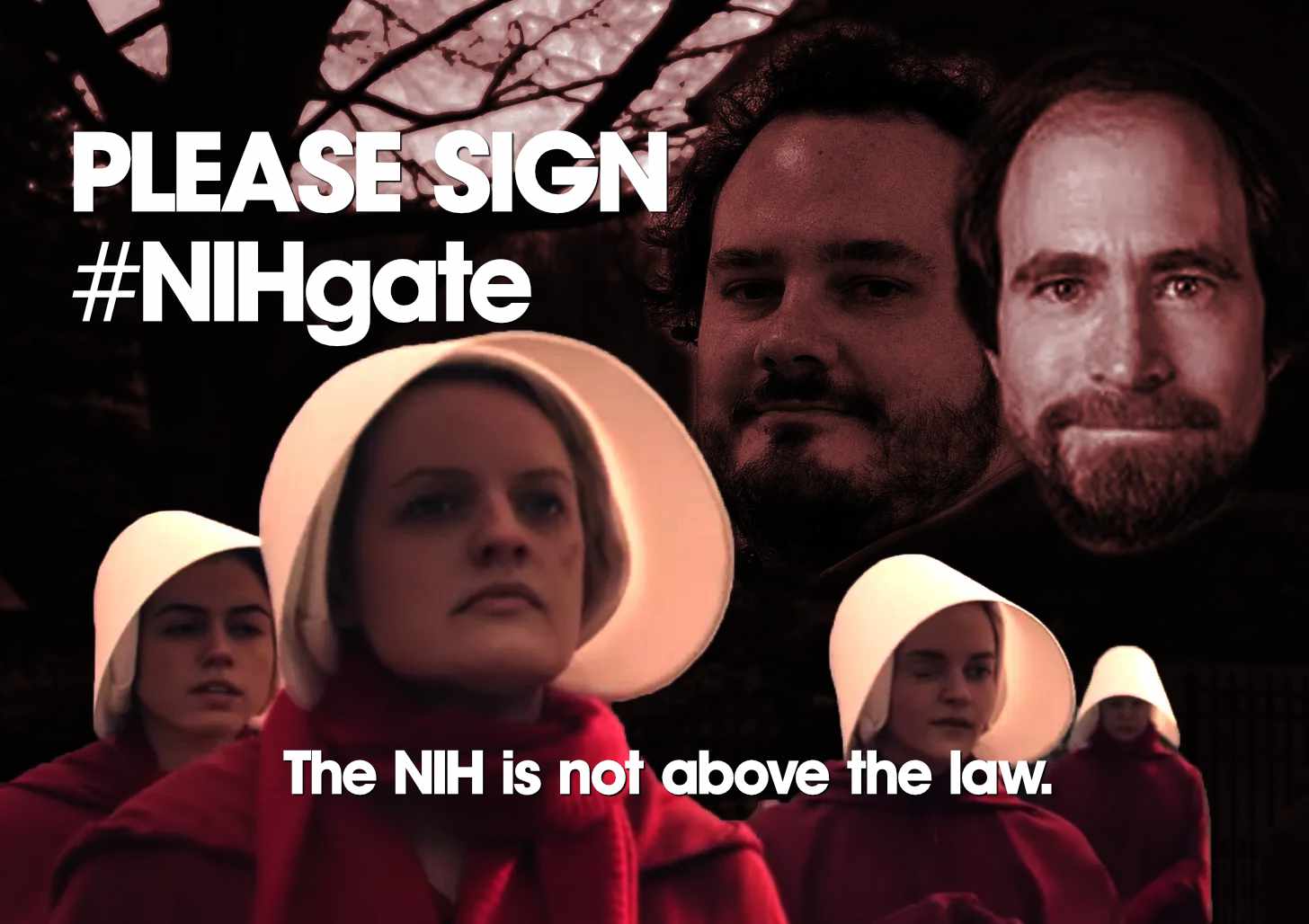 Today the HHS responded. Vaxxed Lives Don't Matter.
Today we received an email response to our appeal from the HHS. While the response was expected, it demonstrates just how nefarious our federal government has become. According to the HHS, the only thing that matters to them is maintaining their relationship with MDPI Viruses and protecting the trade secrets of a foreign journal, even if those secrets are evidence of an ongoing biological crisis that could subject millions of American's to immense suffering.
According to the rejection of our appeal, William H. Holzerland stated:
Exemption 4 of the FOIA protects "trade secrets and commercial or financial information obtained from a person [that is] privileged or confidential."1 Information other than trade secrets may be protected by Exemption 42if it is 1) commercial or financial, 2) obtained from a person, and 3) privileged or confidential. Here, the records responsive to your original request contain confidential commercial information that is protected under Exemption 4 and continue to be withheld on appeal.

For the purposes of Exemption 4, the terms 'commercial' and 'financial' are given their ordinary meanings and information is considered commercial so long as a party submitting the information to the government has a commercial interest in the information. Courts have recognized that the internal processes or procedures of an organization, including the organization's quality control measures, are considered to be commercial in nature. In this case, the records withheld in response to your request are commercial in nature, and include information that reflects the editorial review processes of Multidisciplinary Digital Publishing Institute (MDPI), a publisher of open access scientific journals, and the processes and procedures MDPI uses to determine whether an article should be retracted.

The records that I am continuing to withhold under Exemption 4 have also been "obtained from a person". The term "person" refers to individuals as well as to a wide range of entities, including corporations.5 The records withheld under Exemption 4 were obtained from MDPI, which is a private company that is registered in Switzerland, and is considered to be a person for the purposes of the Exemption.

The question then is whether the records that I am continuing to withhold under Exemption 4 are considered to be privileged or confidential. Commercial or financial information is considered "confidential" for purposes of Exemption 4 at least if it is (1) both actually and customarily treated as private by its owner and (2) provided to the government under an assurance of privacy.6

MDPI both customarily and actually treats the records withheld in response to your request under Exemption 4 as private. The records that continue to be withheld in response to your request under Exemption 4 include communications about MDPI's editorial review process and the content of a post- publication investigation, which MDPI customarily treats as confidential and does not share with external parties. MDPI follows guidance from the Committee on Publication Ethics (COPE) and the International Committee of Medical Journal Editors (ICMJE), which specify that the confidential

treatment of author manuscripts, review processes and related material is a fundamental aspect of scientific publishing, and that the sharing of information concerning the content, status or fate of a manuscript outside of the journal's review process is against principles of confidentiality.

The records withheld in response to your request in this case are also actually treated as confidential by MDPI. MDPI has made available certain information regarding the general process for investigating complaints about an article on its website7 and MDPI has attached a retraction notice to the article covered by the communications sought by your request that describes the retraction reasons, the form the investigation took and the approval of the editor-in-chief.8 However, beyond that, MDPI does not customarily nor has it in this case made any information about its review process public. This clearly indicates that the records that continue to be withheld under Exemption 4, on appeal, are actually and customarily treated as private by MDPI.

In this case, NIH has also provided assurances that the records that continues to be withheld under Exemption 4 would remain private. NIH's relationship with this and other journals would be harmed by disclosure here.9 NIH and the Department of Health and Human Services (HHS) have also provided such assurances by historically withholding information related to internal processes or procedures of an outside organization, including an organization's quality control measures, in so long as the information is considered privileged or confidential for the purposes of Exemption 4.10 Here, the records at issue reflect MDPI's internal processes and quality control measures for determining whether an article should be retracted. Because the records at issue are a type that have historically been withheld by NIH and HHS, there was an assurance that these records would not be released to the public.

On a final note, it is important to clarify that courts have expressly rejected the argument that, in applying Exemption 4, agencies "should gauge whether the [] harm done… by the public disclosure of confidential information is outweighed by the strong public interest" in its disclosure.11 Congress has already determined that trade secrets and commercial or financial information that is obtained from a person and is privileged or confidential are exempt from release so long as the agency reasonably foresees that disclosure would harm an interest protected by Exemption 4 or disclosure is prohibited by law. Contrary to the arguments made in your appeal, there is no additional requirement in the FOIA statute requiring agencies to weigh the harm of releasing confidential commercial information against the public interest in the material.

With that said, because the records withheld under Exemption 4 contain confidential commercial information that MDPI actually and customarily treated as private and NIH provided MDPI with assurances that the information would be kept confidential, the information was properly withheld in response to your request and continues to be withheld on appeal. I have determined it is reasonably foreseeable that a prospective release of the information that continues to be withheld on appeal would cause the type of harm Exemption 4 is designed to protect against.

DECISION

After consideration of your appeal and a review of the administrative record, I uphold NIH's decision to withhold the records responsive to your request under Exemption 4 of the FOIA.

CONCLUSION

This letter constitutes the final decision of the Department in this matter. If you wish, you may seek judicial review in the district court of the United States in the district in which you reside, have your principal place of business, in which the agency records are located, or in the District of Columbia.

The 2007 FOIA amendments created the Office of Government Information Services (OGIS) to offer mediation services to resolve disputes between FOIA requesters and Federal agencies as a non-exclusive alternative to litigation. Using OGIS services does not affect your right to pursue litigation. You may contact OGIS via email at ogis@nara.gov.


William H. Holzerland
Deputy Agency Chief FOIA Officer
Office of the Assistant Secretary for Public Affairs U.S. Department of Health and Human Services
What this means
HHS has repeatedly made dangerous decisions with regard to public information. When the FDA misrepresented Ivermectin it lost an appeal in a case brought by doctors including Dr. Mary Talley Bowden in Houston, Texas.
The next steps we can take are lawsuits in district courts. We have contacted a law firm involved in cases like this so we shall see what happens.
A note for the censors
If you've followed our work, you know that we have pursued medical censorship and harassment groups with the help of whistleblowers inside their organizations, exposing their dark deeds to the world. If these groups were at all concerned about medical misinformation, they would be fighting alongside us in this battle for information. The lack of support we receive from these 'misinformation' groups proves that without a doubt their goal is merely to subject the world to their twisted will and has nothing to do with scientific integrity or ethics. You can read these stories about the censors here.
In fact, we believe there is evidence that Twitter is still compromised and not at all free. Our work was shared by accounts with millions of followers just this week and yet our articles received scant web traffic when in the past we would be inundated with article views.
I guess that means we're over the target?
Please Help Us Fight
Our news media is corrupt and hijacked. You can support our efforts at independent journalism – and get your name in the credits of our upcoming documentary by donating here.  Thank you!!!